Ref:
Date:
Location:
Photographer:
Ref:
Date:
Location:
Photographer:
The Sea Detective
A brilliant debut novel by Mark Douglas-Home.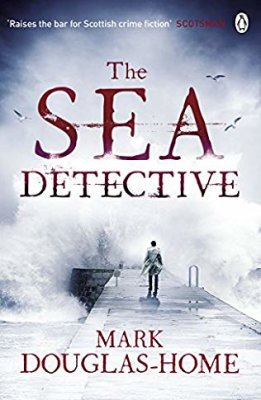 20/06/19
This book by
Mark Douglas-Home
ambushed me. It was a last-minute choice when I filled my book bag at the library and what drew me to it was the name Douglas-Home… wondering if the author was connected with either the playwright William, or the politician Alec. (I've since discovered the answer to both questions is yes.)
As for
The Sea Detective
, it's wonderful – a 5-Star read as far as I'm concerned.
It's about an oceanographer, Cal McGill, who's drawn into a police investigation of body parts washing up on Scottish beaches. We first meet McGill when he's arrested for an environmental protest at the home of a Scottish MSP. As you read, strands of stories appear, disappear and reappear as the plot unfolds. There's an angry and deeply unpleasant Detective Inspector, and a bullied but resilient Detective Constable. There are people traffickers and their victims, and McGill's ancestors and family. The book is intriguing, human, captivating.
When I finished it, I couldn't work out why I'd enjoyed it so much. What made it special? Why and how had it hooked me in so completely? Days after I'd finished reading it, why was I still thinking about it? I loaned it to someone else in our book group (Pink Alpaca) and was relieved when she reported back as follows:
"What a brilliant book, I could hardly put it down. The author, Mark Douglas-Home manages to take crime fiction to a new level, with his highly original debut first novel. The story is set in Scotland and India and delves into the underworld of people trafficking. The central character, Cal McGill – Eco-Warrior and oceanographer becomes involved in a case about two separate feet washed up on the two different Scottish shores. He also becomes embroiled with the local Police over his "plant" exploits, and manages to resolve unanswered questions about the death of his grandfather. A truly inspired story. I can't wait to read the next in the series:
The Woman Who Walked Into The Sea
."
So there you have it. This is a book to search out. Published in 2011 it's not new, but it's so worth reading. Find it if you can!
Cornish Eskimo
P.S. Before writing this blog I did some searching and came across a 'Dear Reader' letter written by Mark Douglas-Home in 2016. In it he explains how he came up with the idea of a Sea Detective and created his character, Cal McGill. You can
read it here
.
If you love reading crime fiction we'd love to see you at our book group meetings. We get together on the third Friday of every month at Oundle Library @ 2.30pm and it's very informal. The main aim is to share book and author recommendations with each other to expand our reading lists. And it works! So if you've ever felt stuck looking for something new to read, feel free to come along.