Ref:
Date:
Location:
Photographer:
Ref:
Date:
Location:
Photographer:
Author: Donna Leon
Pink Alpaca reviews the Guido Brunetti series by Donna Leon.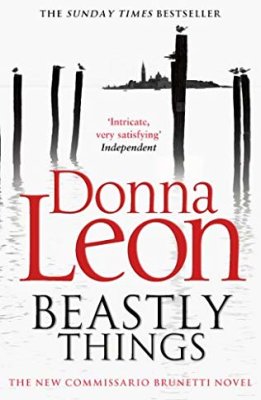 26/09/19
I love Donna Leon's books, especially the ones featuring Guido Brunetti, Commissario in the Italian State Police, stationed in Venice. The fact that the series is set in Venice had me hooked from the start, having visited many years ago. We stayed on the mainland in Mestre, and the books bring back memories of travelling into central Venice by bus each day.
Donna Leon books are always a delight to read as she seamlessly weaves Brunetti's work alongside his home life and his passion for ancient history. This is what makes her characters enjoyable and believable. Her beautiful descriptions of Venetian life will bring back memories if you have travelled to Venice, or make you want to jet off there and discover the delights of the city for yourself.
Despite her books being so popular and winning so many awards, Donna Leon herself has a fairly low profile. It's easy to discover that she lived in Venice for many years (how else could her books have so much resonance?) but you don't hear much else about her. Researching for this blog I discovered an interesting article that appeared in the Guardian in 2017 (when
Earthly Remains
was published) which gives more background information about Donna Leon than anything I've seen before. You can read it
here
.
Hard to believe but the first Brunetti book (
Death at La Fenice
) was published in 1992 and there are now 28 books in the series, with another due to be published next year.
Recently I read
Beastly Things
(Book 21) which was published in 2012. The story begins when a dead body is found floating in a canal. Brunetti is called in to investigate, with nothing much to go on except a pair of distinctive shoes, and the investigation has a slow start. There are no reports of any missing persons and it is only when Brunetti recalls seeing the dead man that the investigation finally gets underway. His quest for the truth takes him over to mainland Mestre where he uncovers blackmail and corruption involving Italy's meat industry.
These books aren't full of graphic violence but neither are they 'cosy crime'. If there's a murder it can be grisly, and if there's a crime it will be complex. The stories are intricate and interesting, and I think the characters are beautifully written. The seedy side of Italian politics flows through each book, with things happening (or not happening) because 'that's just the way things are in Italy'. Coming up against such obstacles, Brunetti shrugs his shoulders and finds another way round the problem. It's this sort of small detail and social commentary that makes these books come to life, and makes them interesting and entertaining to read.
You don't have to read the series in sequential order to enjoy the characters and feel you know them, and I haven't yet read a Brunetti book that I haven't enjoyed. So, if you haven't tried one give them a go and see if you like them as much as I do.
Pink Alpaca
If you read crime fiction why not come along to one of our book group meetings? They're on the third Friday of every month, 2.30pm @ Oundle Library. It's very informal because we don't have a set reading list. We do, however, enjoy a wide-ranging chat about the books and authors we've read. Everyone welcome.